Dairy Products
Meat King
Meat King is essential for enhancing the meat production in fattening animals.
BENEFITS
Meat King offers the following benefits to the health and well being of your animals:
Source of high protein and energy.
Maximum weight gain of animals.
High proportion of muscles having desirable eating characteristics.
Improves the immune system of animals.
CHARACTERISTICS
This fattening feed that Matra Asia provides is called MA-77. It has the below mentioned characteristics:
It has sufficient quantities of imported minerals
It increases the weight of animals on daily basis
It is free from toxins & animal protein sources
IIt is cheaper than every kind of oil seed cake and ensures good health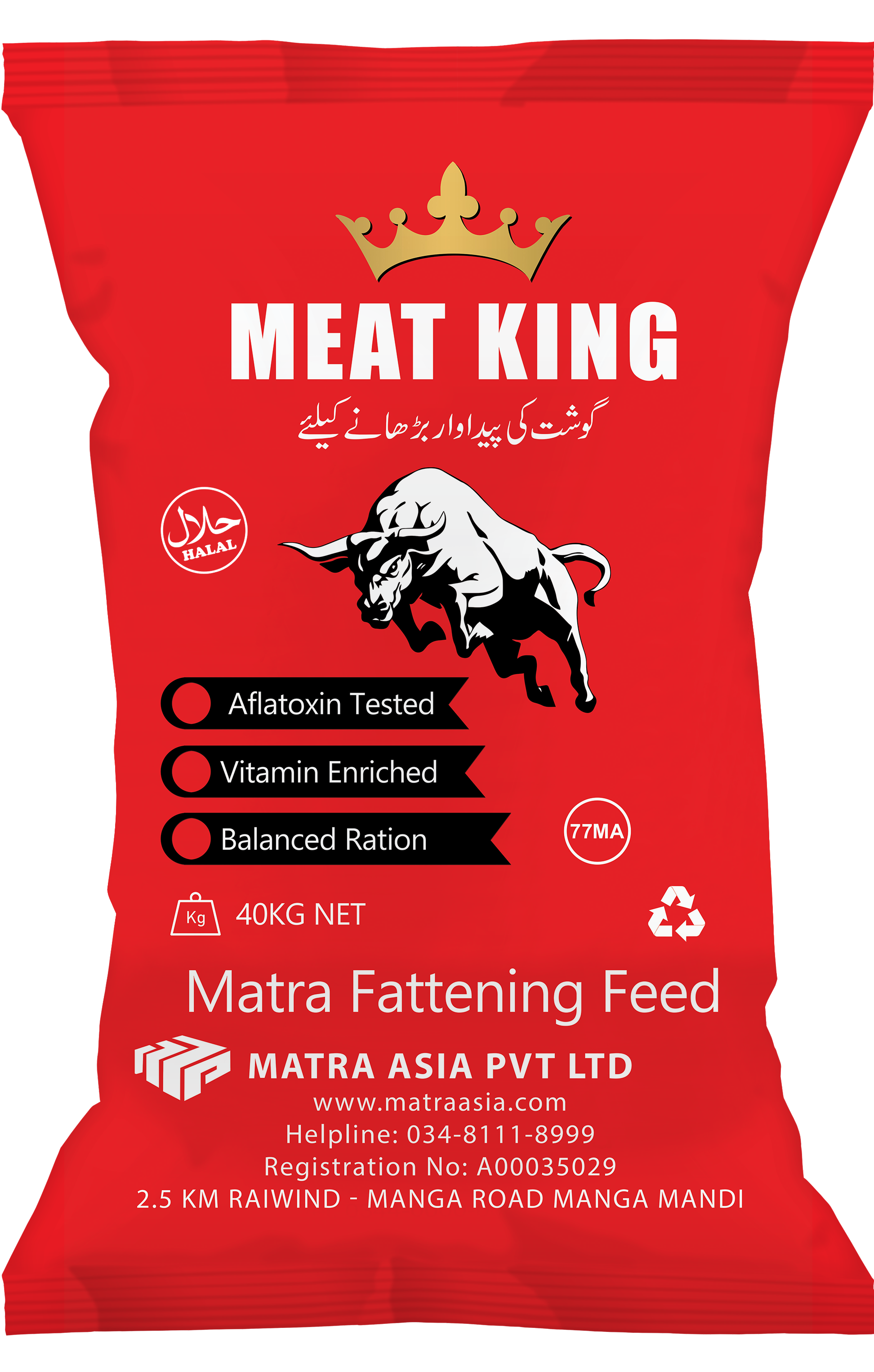 COMPOSITION
As mentioned above, one of the qualities of Matra's Meat King is that it has sufficient amounts of minerals and nutrients as required by a dairy animal. The table below shows the composition of minerals in MA-77:
| Dairy Feed Farming | DM Min % | CP Min % | TDN Min % | E.E Min % | ASH Max % |
| --- | --- | --- | --- | --- | --- |
| | 88 | 18+ | 75 | 3.5+ | 12 |
INGREDIENTS
The ingredients present in Matra's Meat King are:
Wheat Bran
Maize
Rice Polish
Soybean Meal
Canola Meal
Rapeseed Meal
Sunflower Meal
Palm Kernel Cake
Molasses
DCP
Salts
Imported Minerals
FEED RECOMENDATIONS
Matra Asia recommends the use of Milk Prince as listed in the table below:
| Weight | Matra Feed | Weight | Matra Feed |
| --- | --- | --- | --- |
| 100 KG | 2 KG | 300 KG | 6 KG |
| 150 KG | 3 KG | 350 KG | 7 KG |
| 200 KG | 4 KG | 400 KG | 8 KG |
| 250 KG | 5 KG | 450 KG | 9 KG |