Dairy Products
Calf King
Calf King (or MA-60) is a special diet for milk-fed young calves.
BENEFITS
Calf King results in the following benefits for young calves:
Healthy rumen development
Better Calf Lamb/Foal growth rate
Maintains the health
Disease resistance
Improves skin condition
CHARACTERISTICS
The calf feed that Matra Asia provides is called MA-60. It has the below mentioned characteristics:
It has sufficient quantities of imported minerals.
It increases the production capacity of animals.
It is free from toxins & animal protein sources.
IIt is cheaper than every kind of oil seed cake and ensures good health.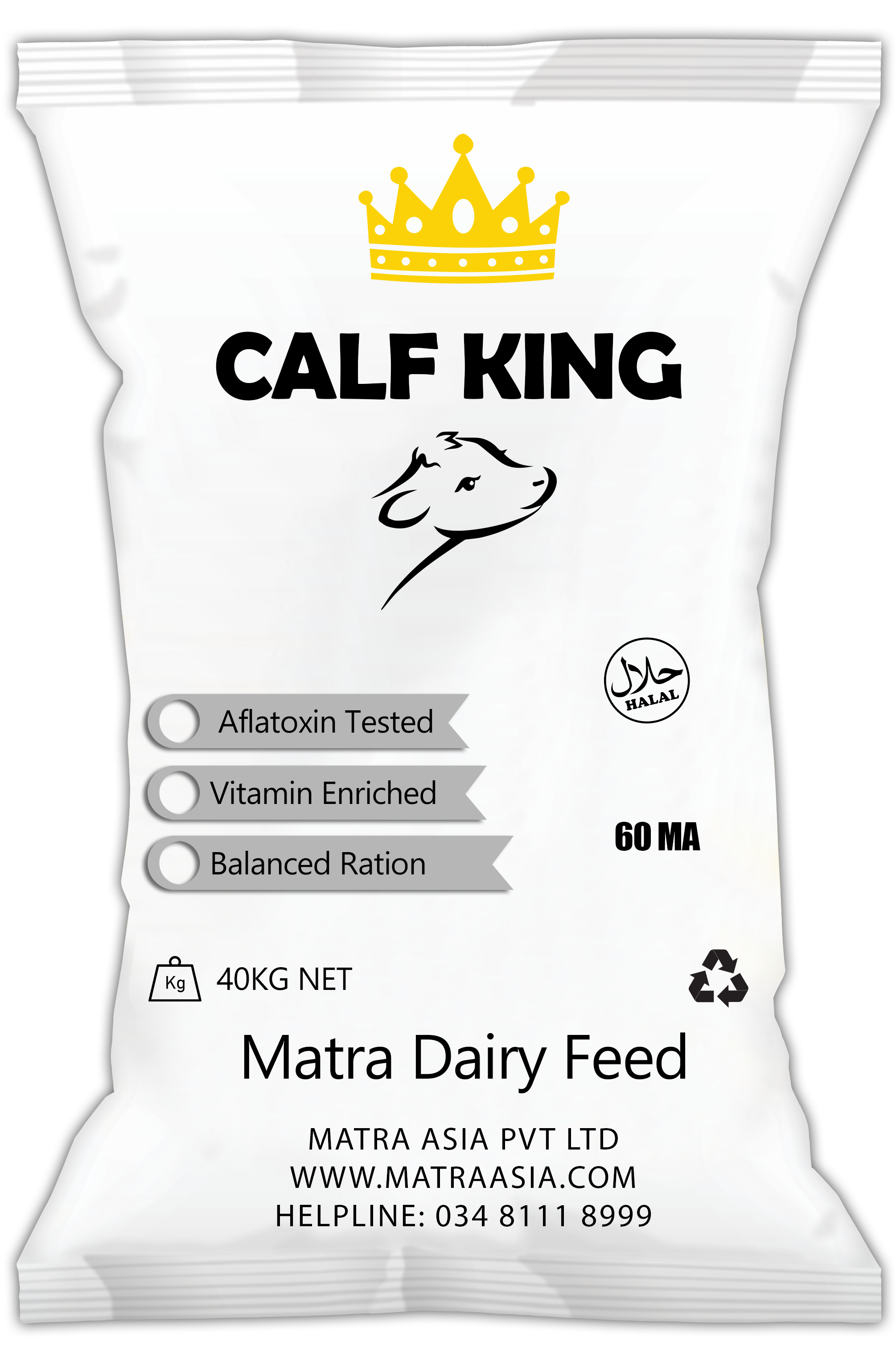 COMPOSITION
As mentioned above, one of the qualities of Matra's Calf King is that it has sufficient amounts of minerals and nutrients as required by a young calf. The table below shows the composition of minerals in MA-60:
| Dairy Feed Farming | DM Min % | CP Min % | TDN Min % | E.E Min % | ASH Max % |
| --- | --- | --- | --- | --- | --- |
| | 88 | 21+ | 75+ | 3+ | MAX |
INGREDIENTS
The ingredients present in Matra's Calf King are:
Wheat Bran
Maize
Rice Polish
Soybean Meal
Canola Meal
Rapeseed Meal
Sunflower Meal
Palm Kernel Cake
Molasses
DCP
Salts
Imported Minerals
Molasses and Vitamins
RECOMENDATIONS
Matra Asia recommends the use of Calf King along with other materials as listed in the table below:
| Age | Clostridium | Milk | Calf Kin | Dried Hay | Water |
| --- | --- | --- | --- | --- | --- |
| 1 Day | 4 - 6 Liters | X | X | X | X |
| 2 DayS | 4 Liters | | | | |
| 3 Days | 3.5 Liters | X | X | X | Less |
| 1 Week | 2 Liters | 1.5 Liters | 100 g | | As per requirement |
| 2 Weeks | | 4 Liters | 150 g | | As per requirement |
| 3 Weeks | | 4.5 Liters | 200 g | | As per requirement |
| 4-7 Weeks | | 5 Liters | 500 g | | As per requirement |
| 8 Weeks | | 4.5 Liters | 1 Kg | Wheat Straw + Green Fodder | As per requirement |
| 9 Weeks | | 4 Liters | 1.5 Kg | Wheat Straw + Green Fodder | As per requirement |
| 10 Weeks | | 2 Liters | 1.75 Kg | Wheat Straw + Green Fodder | As per requirement |