Agri Products
INTENSE (Bio-stimulant)
INTENSE is a highly efficient Bio-stimulant, which contains organic Nitrogen, Plant growth regulators & substances derived from beneficial soil microbes. These microbes are well known for their antifungal & phosphorus solubilizing properties.
BENEFITS
Intense promotes vigorous plant growth & increases crop yield up to 15% by helping the plant in several ways such as:
Intense mobilise nutrients from soil to the roots especially (phosphorus and iron).
Intense promotes extra flowering and helps in fruit retention.
Intense help in gaining fruit size by helping translocate food from plant to fruit.
Intense ensures excellent root development.
Intense boosts the plant's natural immune system against diseases.
Intense helps plants to tolerate drought and saline stresses.
Intense protects the roots from nematodes and fungal diseases.
Application Method:
Seed treatment: Wheat & Potato.
Drenching: Sugarcane, Cotton & All Vegetables.
Root treatment: All Nursery crops like, Rice, Strawberry, Onion & All vegetables.
Flooding: All crops
Application Time:
Intense can be used in the early stage of the crop within 30 days of sowing.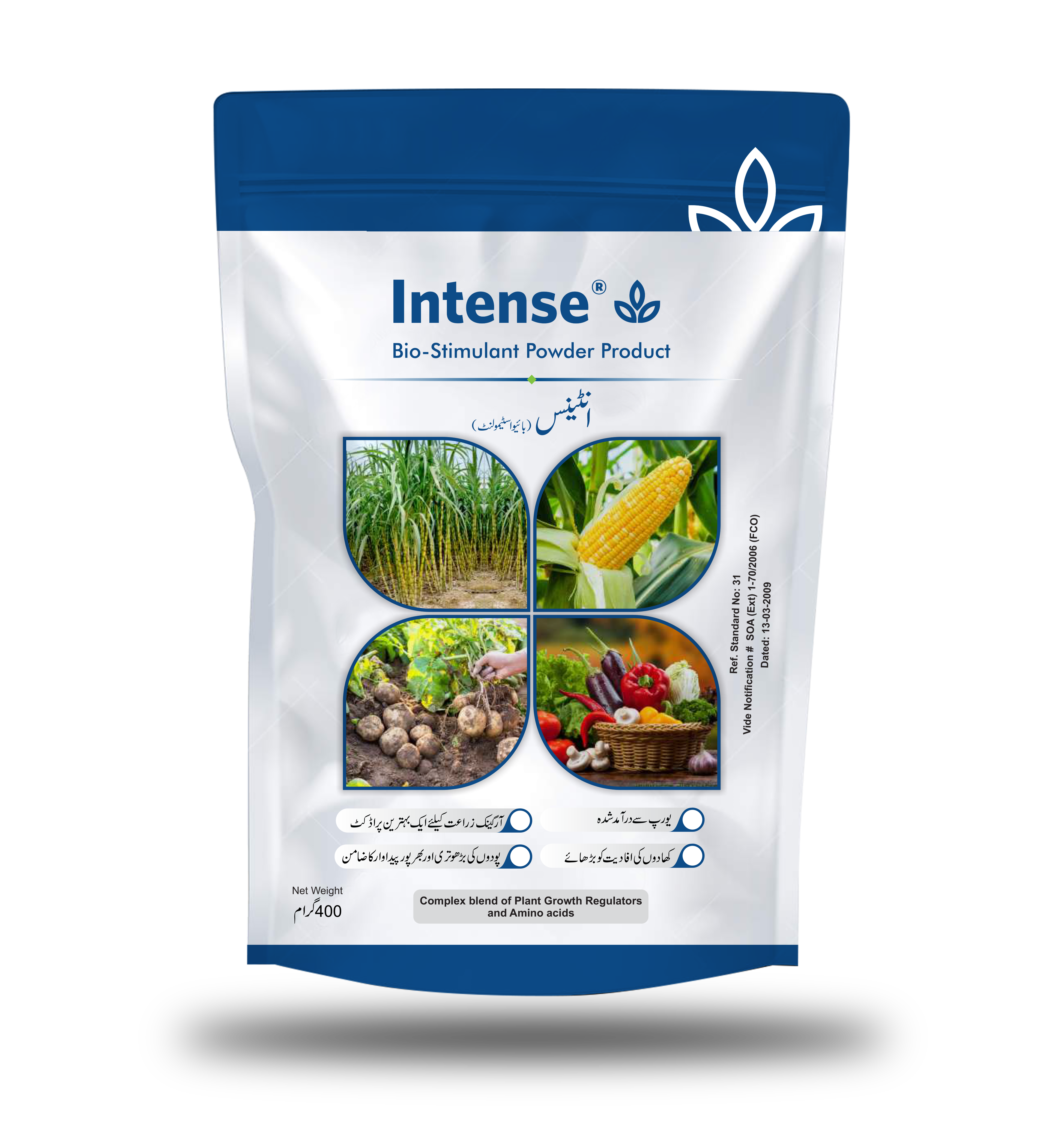 Application Rate:
1-2 Packet of Intense/acre.
Compatibility:
Intense is chemical free and is compatible with all types of pesticides & fertilisers.
Detail description of application
| Sr. No | Crop name | Intense/acre | Method of application | Amount of water required/acre |
| --- | --- | --- | --- | --- |
| 1 | Wheat | 1-2 packet | Seed treatment | 500 ml |
| 2 | Potato | 1-2 packet | Seed treatment (spray) | 8-10 litres |
| 3 | Sugarcane | 1-2 packet | Soil drenching | 160 litres |
| 4 | Strawberry | 1-2 packet | Root dipping Or Drenching | 17 litres or 160 litres |
| 5 | Rice | 1-2 packet | Flooding Or Root dipping | 50 litres |
| 6 | Cotton | 1-2 packet | Soil drenching after germination within 30 days of sowing (drill sowing/flat sowing) | 160 litres |
| 7 | Fodders | 1-2 packet | Soil drenching after germination within 15 days of sowing Or Flooding | 160 litres |
| 8 | Vegetables | 1-2 packet | Soil drenching after germination within 30 days of sowing. Or Powder placement with seed Or Flooding | 160 litres |
| 9 | Maize | 1-2 packet | Flooding | At least 50 litres |